CHAIREL MISSION FIELD
(Tanchin Tomkim)
MANIPUR EVANGELICAL LUTHERAN CHURCH
MISSION FIELD TANGTHU TOMKIM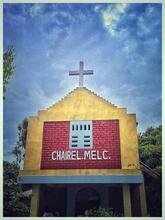 MELC has Mission field amongst the indigenous populace in Manipur's Thoubal District. There are 9 Churches in the Mission field. In the year 2009 one Meitei Theologian was ordained as Pastor to work among the Meiteis.
Thumasa: Amasa in ipawlpi Manipur Evangelical Lutheran church (MELC) ten I Mangpa'n, "Gam chiam ah pei unlen Khantanhoi gen un; agingta mite khu Pa, Tapa, Hagau Siengthou min in Baptist bawl un….."chia Khantanhoi gen ding a Mawpuohna ahingpieh dungzui a, chairel Heaquarter a nei a, Thoubal District a Mission field inei ua pat kum 25 tan Silver Jubilee mel hing musahpa Pasian min phat in um tahen.
Tualeh Pasian in Thoubal District Mission field ding a ahingpieh dungjui a, Chairel Headquarter a nei a Missionary na isep ua pat kum 25 Silver Jubilee tan, itunna thu Tanchin tomkim a giel ding a mawpuohna hingpie Jubilee souvenir Boardte tungah Pasian min in kipah thu ka gen ahi.
1991 – Tami kum in ZCC in Meitei gam a Missionary nasep utna a kinei tahzieh in Mission Field mun sui dingin Officete ngansie ahi uhi.
Mission Field Headquarter mun ding sui ding a Officete ngansie ahi dungjui in dungjui in unaute tenna mun Chairel khu Mission Headquarter mun ding in Dt. 1st, July 1991 (Seppatni) in Rev. PK Khama Director of Ministries in puonkhietna aneita hi.
1. Tami kum in Mission Field Headquarter mun ding puonkhiet- ni in Pu. Thangkhanlal MLA in a peikhawm mipite tuonna ding in Manipur State Road Transport Corparation (MSRTC); Bus khat ahing tuoh hi.
2. Tami kum mama in Pa. Chaothoi Evangelist ding in kila hi. Kum bei kuon lam in Evangelist Missionary dingin L. Thuam- kai kila kia hi. Amaugel khu Mission Field a semtu masapen ahi uhi.
Tripura Mission Field Visit Report
~ Rev. Thangliankham, Director of Missions.
        I pawlpi vaihawmna leh deina banga Tripura Mission Field a gingthate baptisma pe dinga sawl a ka um bang un, Date 27/04/19 Kiginni Nitahlam dah 5:00 pm vel in Mission Field mun ka va tung uhi. Tualeh Date 28/04/19 Pasianni zingmawng dah 7:00 Am in Field Incharge Pastor Douchinlal in gingtha agawm in mi sawm le guh te Pa leh Tapa leh Hagausiengthou min in Babtisma tang sah hi. Babtisma tangte khu tam anuoia te ahi uhi:
   1.  Mr Tarzona Rieng S/o Mr Deporam Reang
   2.  Jobing Rai Reang S/o Chabiram Reang
   3.  Nibaram Reang S/o Chabiram Reang
   4.  Ranjeet Tripura S/o Phuspada Tripura
   5.  Pitharam Reang S/o Amrita Reang
   6.  Ram Singh Meshika Reang S/o Madhuram Reang
   7.  Domenjoy Reang S/o Amara Reang
   8.  Jaisarai Reang S/o Jagudra Reang
   9.  Sanjit Rai S/o Sandik Rai Reang
10.  Heleni Reang D/o Nodiram Reang
11.  Mungnagti Reang D/o Tarzona Reang
12.  Rekhabati Reang D/o Khotaram Reang
13.  Debaki Reang D/o Gangaram Reang
14.  Hemayakti Reang D/o Pulmonta Reang
15.  Dalingrung Reang D/o Ramjan Reang
16.  Ms.Arunabati Reang D/o Amara Reang
KANGRAI Khuo um dan:
        Kangrai khuo pen Dasda Block, North Tripura District nuoi a um ahi. District Headquarters ahi leh Kaila Sagar ahia Kangrai apat kilometer 49 vel ahia state Capital Agartala apat 110 kms vel ahi.
        Kangrai pen inn 500 ding vel tenna taangdung Km ni (2) vel a sau ahia, Big Kangrai, Middle Kangrai leh Small Kangrai chin kikhen hi. Tu le tu a ei mission field um na khu Middle Kangrai sung ahi.
School toh kisai :
        Missionary nasep hatsem ding deina toh Evan Manglianlam in School khat ana phut hi. School toh kisai chiemte thei ding tam anuoi a bang ahi:
   1.  School Min: Emmanuel Public School
   2.  Run by: Manipur Evangelical Lutheran Church (MELC)
   3.  Naupang um za: Agawm a admission bawl – 58 (52 te regular tah a kai thei uhi.
   4.  Fees*: Admission - Rs 200/- & Monthly fee–Rs 200/-
   5.  Teaching Staffs : 1. Evan Manglianlam & 2. Ms Kimhoihching W/o Mr Th Luna
HATTUOM LAM TOH KISAI
        Dt. 28/04/19 ni'n Director of Mission MELC hina toh MELC Tripura Hattuom member Lahlutna leh Phuonkhietna ana kinei thei hi. Hattuom toh kisai report thei te ahileh:
    *  Hattuom Inn phaza - 8
    *  Danzou/Baptisma tang - 20
    *  Hattuom Mising - 49
    *  Dan zoulou/Baptisma tanglou - 29
Biehinn kikhopna vaiguon
    *  Conductor   : Pa Th Luna
    *  Hunpat na : Nu Kimhoihching
    *  Hattuom Phuonkhietna : Rev Thangliankham, Director of Mission MELC
    *  Thugenna, Sacrament & Nau latna : Pastor Kapkhanhau
    *  Tawpna/Guolzawlna : Upa Mangkhenmung
    *  Annkuong : Mission Department sponsor na nuoi ah mipi zaval toh nitah annkuong ki-iim khawm hi.
Nitah hun pen laamna leh kipawllimna in ka zang uhi. Mipi zani (200) val in hing uap uhi.
Note:   Tami toh kisai in Hattuomte'n i Mission field ithumna uah thei zing va ui.
Tu-le-tu a thumpi dingte:
   1)  NECTAR Shillong a Training Pastor Kapkhanhau leh Pastor Douchinlal, Mission Field Incharge.
   2)  Harvest Training Institute a training Missionary
        1) Shanti Kumar
        2) Shyam Kanhai leh Ibothem te thumpi zing va ui.
   3)  I missionary teng toh thumpi zing va ui.
~~~oio~~