VONDEI SAULIIM (AN ORPHANAGE HOME)
Vondei Sauliim, 'the abode of love ones' is a project single-handedly support and maintain by the Women wing of the church. The home provides family-based care for parent-less children and it advocates the concerns, rights and needs of the mates. Vondei Sauliim is committed to the welfare of the children by providing basic needs and education. It is our vision that the destitutes will have a bright future.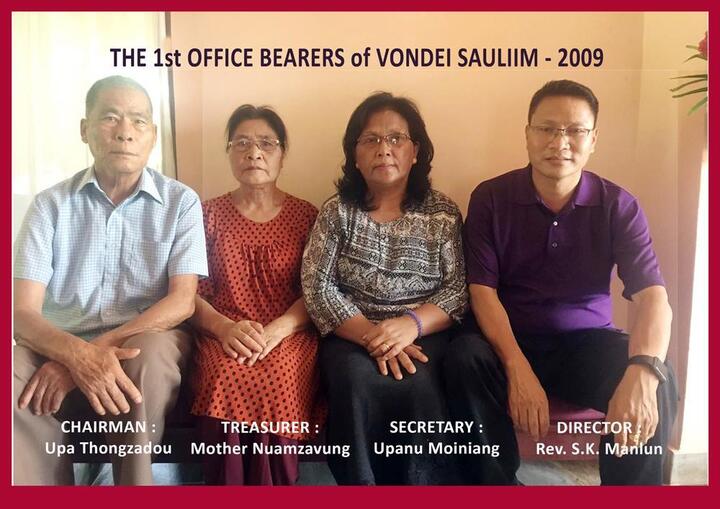 Vondei Sauliim's work is based on the following pillars:
All the child has a caring parent, the mother of the Sauliim. The children have the sense of family ties and he or she grows up with a sense of responsibility and a spirit of sharing, A place where the child feels secure and has a sense of belonging.
So far, Vondei Sauliim has not external financial support except the contribution made by some philanthropic organisations from time to time. The women wing of the church implement different mode of contributions through their units, districts and headquarter organisations.
Inauguration of Vondei Sauliim – (L-R) Pu Thongkhanlal, Pi Mannuamching MCS, Bishop Mung and Upa Thongdou, Moderator
First of all I convey my loving greetings to you all on behalf of the ELCITHS Women Desk.
The Year 2010 marks the beginning of the Golden Jubilee of our Women's Association and the Jubilee was launched and celebrated on 14-17 October, 2010 along with the 6th Annual Council and 50th Annual Session at Zomi Colony Hq. Church. Under the Theme Village Life in Israel ceased, I, Deborah arose, arose a mother in Israel – Judges 5:7.
The sermon during this celebration was so motivating that it gives new strength, new spirit and new in sight to the participants of about 500 strong. As Gandhiji says" If the women moves, the whole nation moves" So like Deborah, we (women) with God can fight and win for our family, our Church, our society and for our nation at large.
With God's grace and blessings we could make our three years plan project (Orphanage Home) a successful one. With faith and only Rs. 30000 in hand, God paved our way through thick & thin, I with many obstacles and turn our vision into reality and gave us five children and a place to live. We started fasting prayer for this Home from 2006. It was Christened as VONDEI SAULIIM which means Home of loved ones. It was inaugurated by our respected Ms. Mannuamching S.D.O. CCPur and dedicated by Rt. Rev. Bishop Mung. Two Youth who lost both their parents were given Rs. 1000 each from this Project fund for their school admission. For Church building we could contribute Rs. 20000 only. ELWA made Tour programmes, divided into 5 groups and visited every local church giving Seminars and awareness campaign on Global Warming, HIV/AIDS and gender issues. We also have leadership Seminar programmes and exposure tour.
We help the poor and the needy especially the widows in cash and kind. We also visited our Mission Field three times and conducted open air preaching.
At National level programmes :
1. Our Women Promoter attended the theologically trained Women Seminar at Chennai.
2. Women Secretary attended the Women's Conference cum Executive Enlarge Committee at Chennai.
I seek your comment and guidance for future ministry.
Submitted with thanks.
Mrs. Moiniang
Secretary
ELCITH Women Dest.
ORPHANAGE HOME TOH KISAI THEITUOH KHENKHAT
1. The 47th Annual Conference cum 4th Council Simveng Biahinn ah Dec. 13th, 2006 nia Resn. No. 7 na ah Three Year Plan Project nei ding thu sawtpi genkhomna akinei hi. Orphanage home nei dinga phatsah ahi. Amin ding leh fund drive danding 1st Standing a ngaituo dia phatsah ahia. Tualeh, tuami ni'n mikiphal 18 te apat Rs. 6,240/- leh puonten khat toh kimu hi.
2. Date 8/01/07 O/B : Meeting Resn. No. 4 : Project a dinga sum kimu pen Treasurer in ana kem dia tam project sumpen a tuom a account ana maintained dia theisah ahi. Fund drive ding pen 1st Standing chienga ngaituo khom dia phasah ahi. Cash book zong atuom a maintain dia phasah ahi.
3. Date 20/3/07 ELWA : 1st Standing Resn. No. 5 a um tualeh Resn. No. 3 na 3 Years Plan Project toh kisai genkhomna akinei a, amin ding ahileh Orphanage Home. Fund Drive bawl dan ding tam anei a banga ngaituo ahi. ELWA sum pumpi apat a 5% aki submit dan dungjui a Orphanage Home a dinga koitou jel dia phasah ahi. Khochin a ELWA tengin sum mu na dinga khochiet uapat a lam doh chiet ding uh ahi. Orphanage Home toh kisai a ann ngol thum na hakhat a khat vei nei dia phasah ahi.
4. Dt. 29/06/2007 ELWA Office bearer meeting Resn. No. 2 Orphanage toh kisai genkhom na tambang in a kinei hi. a) Patron member leh Life member suiding a phasah ahia, Patron member Rs. 3, 000/- leh life member 1, 000/- ding a phasah ahi. Tam thu toh kisai in Secy. in Local level in circular ana bawlta hen chia phasah ahi.
5. Date 30/10/07 : ELWA 2nd Standing Resn. No. 4 Orphanage Home min toh kisai genkhomna akinei a, Assembly Session hun chia gendia phasah ahi.
6. The 48th Annual Conference at Hqtr. Church Z/Colony 15/12/2007 Orphange Home thu sot kuomtah ngaituona akinei a, angei ngei a pei dia phasah ahi.
7. The 9th Annual Conference cum 5th Council at Bethel Chapel Hiangzou ah Dt. 12/12/08 Resn. No. 7 na Orphanage toh kisai hun zatdan ding districtte apat ngaikhiet ahia, khochin in 6vei ann ngolna nei dinga phasah ahi. Tualeh, toikhom/annehtang te Head Office a submit ding chi ahi.
8. Dt. 8/06/2009 Committee, Orphanage toh kisai houlimna sotpi akinei nua in tambang in kibawl hi. Panpina sum Rs. 1, 000/- tuah S. Sehken a um (L) Upa Khamminthang tapa leh (L) T.K. Mang tapa kungah kipie hi. Tuaban ah Home pen i Golden Jubilee masang ngei a pat dinga phasah ahi. Tualeh, ahithei ding leh Sept. 2009 chia phukhiet dia phasah ahi. Tami toh kisai in a mun a muol leh sil bangkim hing sai dingin Chairperson, Secy. DM leh Bishopte muongtah a ngansie ahi.
9. The 2nd Office Bearer Meeting Dt. 9/07/09 Resn. No. 1 na (Resn. 9 na) thupuasah dungjui in ngansie a umten pan hingla in thu leh la theina dingin Home tuomtuom vena kinei in lungsim ngaituona a home enkol dinga kigel Nh. Siendeiniang houlimpi na zong va kinei hi. Ama zong ana kihong pai a Pasian in i thumna uh hing kinsan hiva chi in, i gintat sang a hing lem baijaw in Nuten tu leh tu a akingahna juol ding un Officeten hing ngaituosah uleh chia nget leh theisah ana hihi. Nh. Siandeiniang ahileh Only Grace a Warden a kum thum experience a na nei sa ban ah Laisiengthou zilna lam ah M.Div. jou ahi.
10. Dt. 7/08/2009 ni in sai ding a tam jiehin mitam lou ana kihankhawm in tu leh tu a poimawte sai dingin Home Management Board khat bawlkhiet apoimaw jiehin Temporary in tam anei a teng akiguong juol hi. Hoi isah leh Commtt. in theipi ding chi ahi. Members presented –
1) Upa Thongzadou 2) Nu Nuomzavung 3) Nu Mawiniang 4) Nu Moite 5) Siandeiniang leh Apolozy Rev. S.K., tamni in a min ding in VONDEI SAULIIM chi in na kiphuoh hi. Signboard rules & regulation leh Home a dia silpoimaw tuomtuom zong ana ki enkhom hi. (No. 2 leh 4 na etjui ding)
Vondei Saulim Hostellers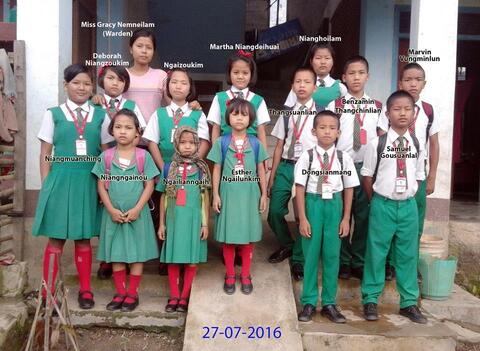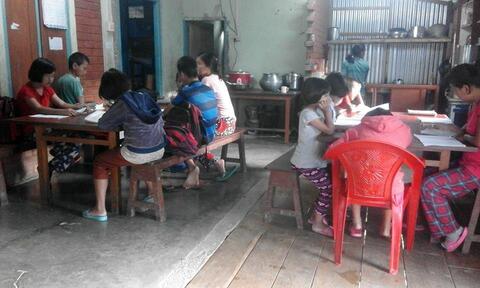 A Regular Physical Training